Richard Morris Hunt, one of the most noteworthy architects of the last half of the 19th Century, had a strong and long affiliation with Newport. He met his wife, the heiress Catherine Howland, in Newport in 1860. He had an artist's studio here as did his famous sculptor elder brother, William Morris Hunt. He maintained a strong connection to Newport throughout his life and completed numerous projects in Newport throughout his career, including the JNA Griswold House, Ochre Court, Marble House and the Breakers, among others.
Hunt was noteworthy even in his youth as he grew up in Europe, spoke perfect French and was the first born-American to complete his studies the famed Ecole des Beaux Arts, which was the preeminent school of art and architecture in the world during the 19th century. Upon returning to the United States in 1856, he had few completed works to his credit, but his charm and illustrious education had marked Hunt in the eyes of Richard Upjohn, who was the foremost New York architect of his day, as a young man with a promising future. Hunt was invited by Upjohn to be one of the twelve American architects to help found the American Institute of Architects, which is still the leading architectural association more than 160 years later. At the time of the first gathering, Hunt was only 29.
Hunt would eventually serve as president of this organization and in fact, of the first eight presidents of the AIA, five of them did work here in Newport during their careers. Although somewhat off the main route between New York and Boston, Newport was often at the center of architectural developments which characterized the evolution of American architecture in the seventeen, eighteenth and early nineteenth centuries. For many years Hunt served as the secretary of the AIA and was a driving force behind its assembly of a library of books on architecture—a critical resource at a time without internet or public libraries.
While Richard Upjohn may have been the most famous architect of the middle part of the 19th century in America, Richard Morris Hunt was unquestionably the most prominent US architect of the last part of that century. He became known as "Dean of American Architects" for his scholarly demeanor and for his enormous contribution to professionally architectural education in the United States over his lifetime, bringing the pedagogical traditions of the Ecole to North America.
Hunt completed his first important freestanding project, the JNA Griswold House, here in Newport in 1864. This house was designed in a style that the noted Yale architectural scholar Vincent Scully would later name the "Stick Style" as it used decorative external features to imply the sort of structural members that were exposed on the outside in the Tudor and various French historic styles. What is noteworthy about this building, although produced early in his career, is that it established all the major hallmarks of his work: inventiveness built about traditional design principles, sculptural development of space within the structure through the use of double and triple height spaces and flexibility and versatility of design style as desired by his client. This building was purchased by the Art Association in 1916 and is now the main building on the Newport Art Museum campus. Its magnificent "Stick Style" interior has been beautifully restored, is open to the public and is located at 76 Bellevue Avenue.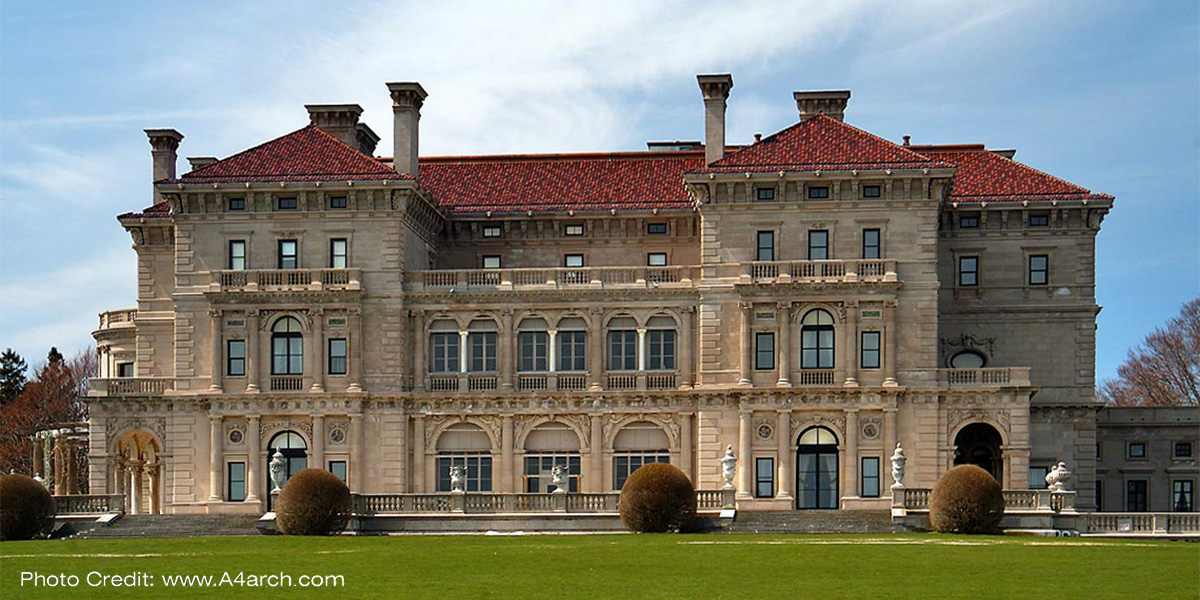 Later in his career, he became architect to the Vanderbilts and completed many of his most significant residences both here and elsewhere for that powerful and illustrious family, including Marble House (1892) and the Breakers (1895).  These two magnificent houses are operated and maintained by the Preservation Society of Newport County and are open to the public much of the year. While they are designed in grand styles that are referential to European chateaus, palaces and palazzos, they integrated the use of modern materials like steel and concrete to achieve their aesthetic goals, but in an invisible and understated way. Other buildings he designed in Newport not generally open to the public are the Travers Building (1870) and Ochre Court (1888), now the main administration building for Salve Regina University.
Richard Morris Hunt loved spending time in Newport but had the misfortune to die here in 1895, while at the very peak of his career. He fell ill at his Newport summer home, Hilltop, during a stopover from racing back and forth between Boston (where he was finishing the Fogg Museum at Harvard University) and Asheville, North Carolina (where the enormous Biltmore was under construction). He is buried here in Newport in the Island Cemetery beneath a polished granite slab inscribed "Laborare est Orare" (Labor is Prayer). His custom bookplate inscription "Vita Brevis Est, Ars Longa" (Life is Short but Art Endures), perhaps an even more fitting motto for his life and work. We have been fortunate that national level architects like Richard Morris Hunt chose to spend so much of his creativity and career completing project here in Newport, Rhode Island, and that we, the community, are the treasurers of their works.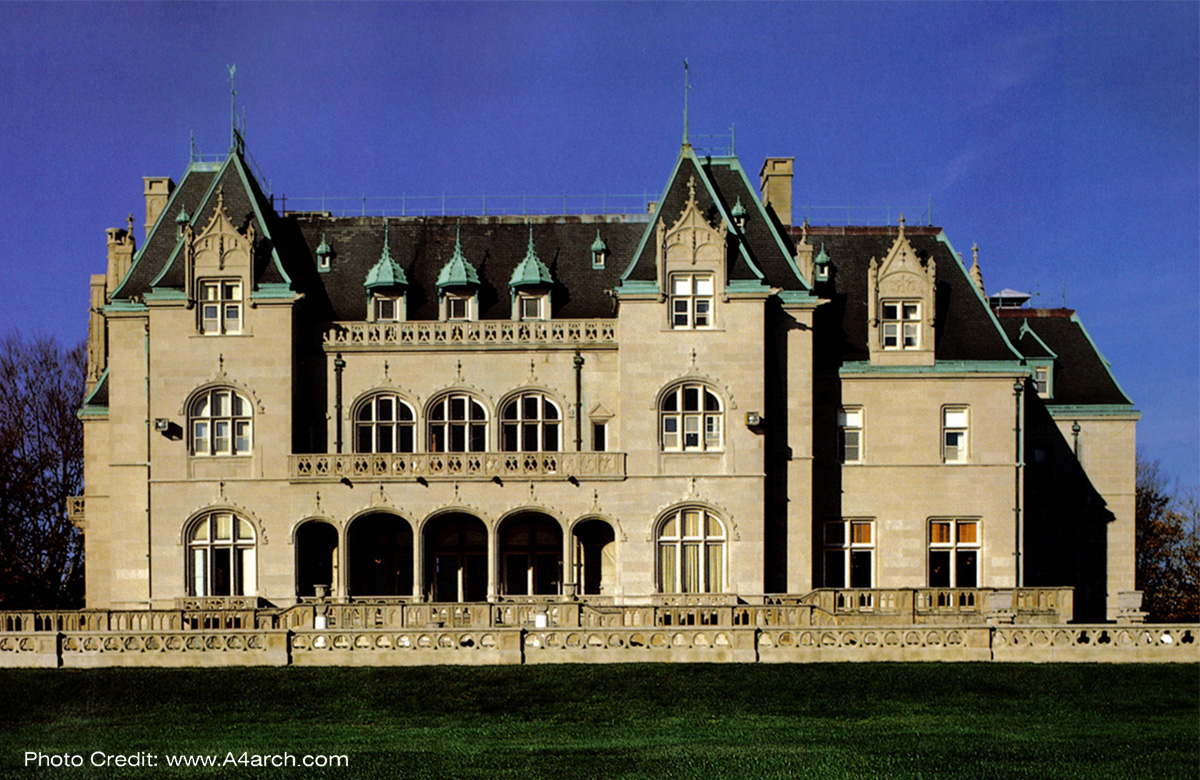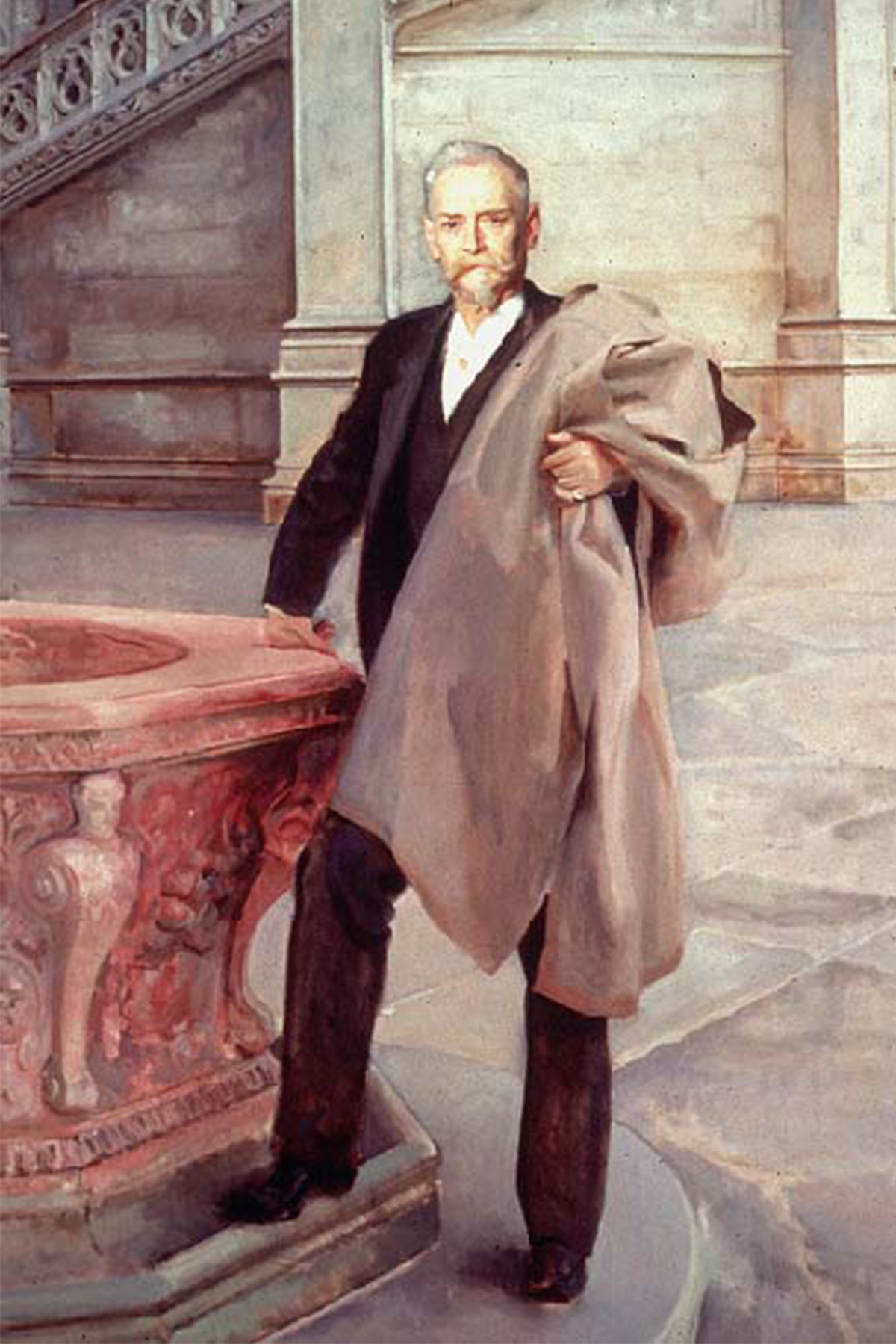 Ross Sinclair Cann, AIA is an historian, educator and practicing architect living and working in Newport for A4 Architecture He holds architectural degrees from Yale, Cambridge and Columbia Universities and is a member of a numerous committees, commissions, and boards.