Newport, since its founding in 1639, has gone through a series of rises and falls.  In its early years, Newport was Rhode Island's leading city thanks to its well protected deep-water harbor just off the Atlantic Ocean along the route connecting Boston and Charleston.  It was the primary seat of government in the Colony and, thanks to the high degree of religious tolerance enjoyed by the residents, it became a destination for Quaker and Jewish merchants who were made to feel unwelcome elsewhere.  By 1776, Newport was the fifth largest city in America, behind New York, Boston, Philadelphia, and Charleston respectively.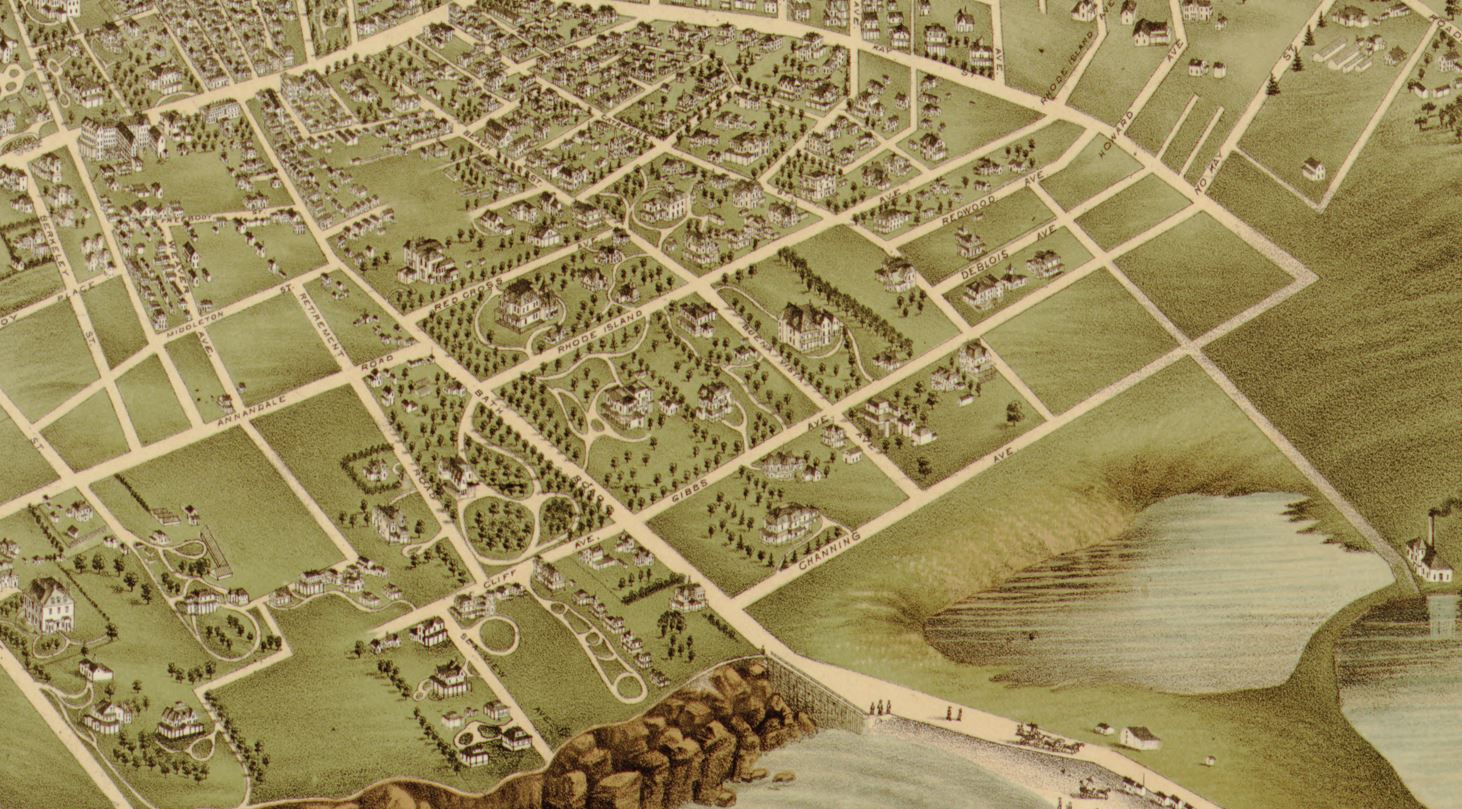 The American Revolution represented Newport's first serious setback.  The city was occupied by British troops in December of 1776 and half of the population fled to other places, and Newport would never again count itself among the largest of America's cities.
From 1776 until the 1820's, there was very little construction done in Newport, but slowly the city's excellent harbor and hospitable climate began to bring people back to the community.  There was a growing year-round community of merchant traders like the Wetmore's of Chateau-sur-Mer as well as a number of summer residents.  The community was so popular with southern plantation owners during that time that it earned the nickname "Carolina Hospital" as a place where the well-to-do could escape the heat, humidity, and malaria of their Southern summers.  Grand homes like the George Noble Jones House (which would later be expanded upon and renamed "Kingscote") were built in this era.
With the advent of the civil war in 1861, many of these southern owners felt unwelcome in the north and sold to Boston and New York families seeking a comfortable, well-established community to spend part of their summers.  In 1881, William Backhouse Astor Jr. and his wife Caroline Astor purchased Beechwood from the Parish family, which had originally hired the nationally recognized team of Calvert Vaux and Andrew Jackson Downing to design in 1852.
Mrs. Astor was the matriarch of New York Society during the Gilded Age, which was a period of rapid growth in wealth among American industrialists.  Federal Income Tax at that time was very modest (3% on the first million dollars of income) and therefore, great accumulations and displays of wealth were possible.  The term "Gilded Age" was a pejorative one assigned to the era by Mark Twain but the term has stuck in retrospect.  Newport had already, in the period after the American Civil War, become a haven for Boston, New York, and, to a slightly lesser degree, Philadelphia societies.
Newport was relatively easy to access by sailboat and steamship at a time when roads were rugged and slow to travel by.  There was a fairly large stock of grand mansions from the colonial and anti-bellum periods, and the climate was ideal in a period long before the existence of air conditioners.  It was in this era that the Catherine Kay neighborhood saw its greatest growth and George Champlin Mason Sr. (1820-1894) was the native son of Newport who garnered many of the most important commissions of the era from 1855 until his death in 1894.  Mason was by far the most prolific architect in Newport. Although born and raised in Newport to a prominent New England family, he had lived in New York after age 15 and had studied painting and architecture in Europe from 1884 to 1846.  Due to his natural social position, his training in Europe, and his natural skill, he became the driving force for the creation of the second empire style houses in Newport during the mid-Victorian era.  He designed approximately 150 houses, many of which are extant today.
Although he built throughout the city, his career coincided most particularly with the growth of Newport in the period immediately proceeding the Gilded Age, and the Catherine Kay Neighborhood. Due to its close proximity to the colonial neighborhood of "Historic Hill" and to Bellevue Avenue, it was best poised for expansive growth during this era.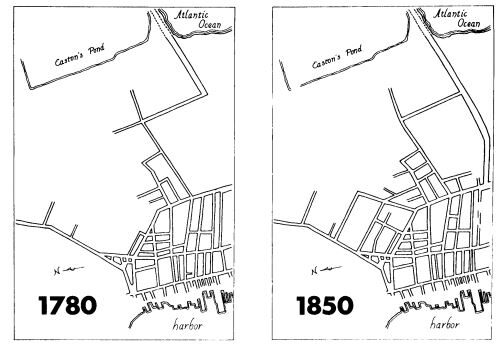 F.24 Evolution of the Street Pattern of the Kay Street – Catherine Street – Old Beach Road Neighborhood
Unlike many of the Gilded Age mansions that became "white elephants" that were too large and expensive to care for along the southern end of Bellevue Avenue, Mason's homes were large and comfortable, but not so large as to be unmanageable.  As a result, many of them still remain 150 years after they were constructed and they form the backbone of the Catherine Kay neighborhood to the present-day. The Catherine Kay neighborhood stands as a testament to the the growth of Newport during the mid-Victorian Period, a treasury of the architecture of that time and a tribute to Newport most prolific architect of that era, George Champlin Mason.
Ross Cann, RA, AIA, LEED AP, is an author, historian, and practicing architect living and working in Newport, RI. He holds degrees with honor in Architecture from Yale, Cambridge, and Columbia Universities.