When planning a construction project, people often wonder if they need to hire an architect. The answer depends upon many different factors. Is it a residential or commercial project? Do you want to add to the building, substantially rearrange it or simply redecorate it? Do you have the training to deal with the issues that are likely to arise during the design and construction? Do you care about the short-term cost or rather the long-term utility and value of the project?
If it is a residential project, you are probably not legally required to hire an architect. Today, the vast majority of houses are designed by builders, "house designers" or plan book authors. No design study, preparation, or skill is required for these professions. That is why houses frequently look so similar around the country and within a given development. Little consideration is given to their orientation to the sun, site topography, viewscapes, and other components that architects generally use as the starting point for their design. While they may cost less to design and build, they will frequently be much less energy-efficient, less functional, or beautiful and will likely sell for less per square footage than their architecturally-designed neighboring houses.
Conversely, most commercial projects must be designed by an architect or structural engineer because they must meet safety requirements. Architects and licensed engineers are trained to develop plans in coordination with building and zoning codes.
Still, the design can often be constrained by a small budget or the owner's particular tastes, so not all ugly commercial buildings can be blamed solely on the architect. But it is true that architects can occasionally get caught up in a design style of a particular time and thus those buildings may look dated after 20 or 30 years.
If you are not substantially changing the design of the building or adding to it, you also may not require an architect or structural engineer. But building codes have changed dramatically over the years, and if your project is likely to cost more than 50 percent of the assessed value of the building (not including the value of the land), then you could be responsible for bringing the building up to code.
Rhode Island has an alternate approach to the renovation of historic structures, called the Rehabilitation Code. It is a complex permitting approach that will strongly benefit from the assistance of an architect or engineer to avoid running into difficulties during the permitting and construction inspection phases and leaving yourself open to liability issues. The owners of the Station Nightclub discovered this the hard way when a fire killed over 200 people and they were held personally liable.
In summary, hiring an architect may have legal and practical implications. While you may not legally require one for a smaller residential project, you may find that for the long-term benefit of your project and for your sanity during the design, bidding, and construction that the cost of an architect is well worth the price.
For more information on when and how to choose an architect, read: How to Choose an Architect.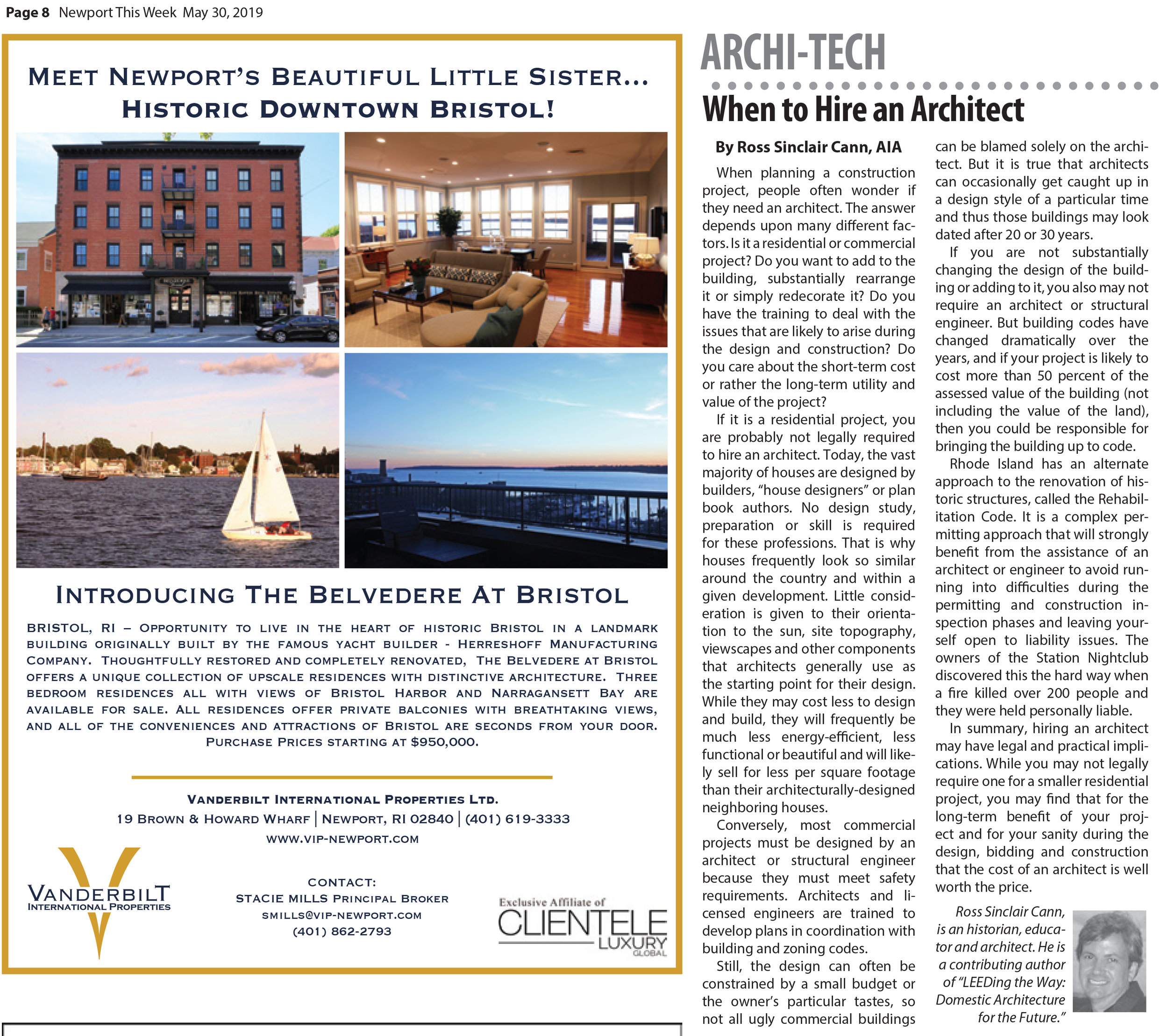 Looking to remodel your home? Let's connect. 
Join the Architectural Forum to stay up-to-date with architectural news from Rhode Island and abroad.