Architecture is all about creating buildings and interiors that are beautiful, functional, sustainable, and enjoyable to use.  When you add buildings together you create communities.  This process, when done consciously, is called "urban design" and "community planning." It is natural for architects to want to segue into the process of urban planning and design as all buildings inevitably interact physically and spatially with the other structures which surround them.
Early on, urban design occurred very organically over time.  If you look at the map of Rome, the locations of the roads were probably predetermined by pathways create many centuries or even millennium in the past. Paris was much like Rome until Baron Hausmann cut grand boulevards into the urban fabric in the nineteenth century at the request of Napoleon to open up the city to better transportation and visibility.  New York is also a hybrid plan with organically located streets below Houston Street and much more regularized streets and avenues planned out for the part of the city north of that dividing line. Some more modern cities, like Washington DC, were completely laid out in advance to create grand vistas and to make the locations of special buildings and monuments stand out within the broader physical hierarchy.
In Newport Rhode Island, which was founded in 1639, there is also a mix of designed and undersigned features.  Broadway, like in New York, follows an old trail from the Newport Spring to the communities to the north: Middletown and Portsmouth. However, other parts of the city (like the Point) were laid out on a rational grid with tree names in one direction and numbers in the other direction.
Portsmouth, Rhode Island, although founded the year before Newport in 1638, was for the vast majority of its history an agrarian area defined mainly by large farms. From 1790 to 1940, its population had only grown from 1,500 to about 3,600, whereas in Newport, the population had grown from 6,700 to 30,500 over that same time period.  However, after the construction of the Mount Hope Bridge to Bristol in 1929 and the Sakonnet River Bridge in the direction of Fall River, MA in 1956, Portsmouth was much more on the route between northern Rhode Island and the gilded age community of Newport.  This traffic flowed mainly to allow two vehicular arteries on either side of Aquidneck Island: East and West Main Roads.  East Main was where the original commercial buildings and Town Halls of Middletown and Portsmouth were built but West Main became the location of the strip center development that occurred in the 1960's, 70's, and 80's.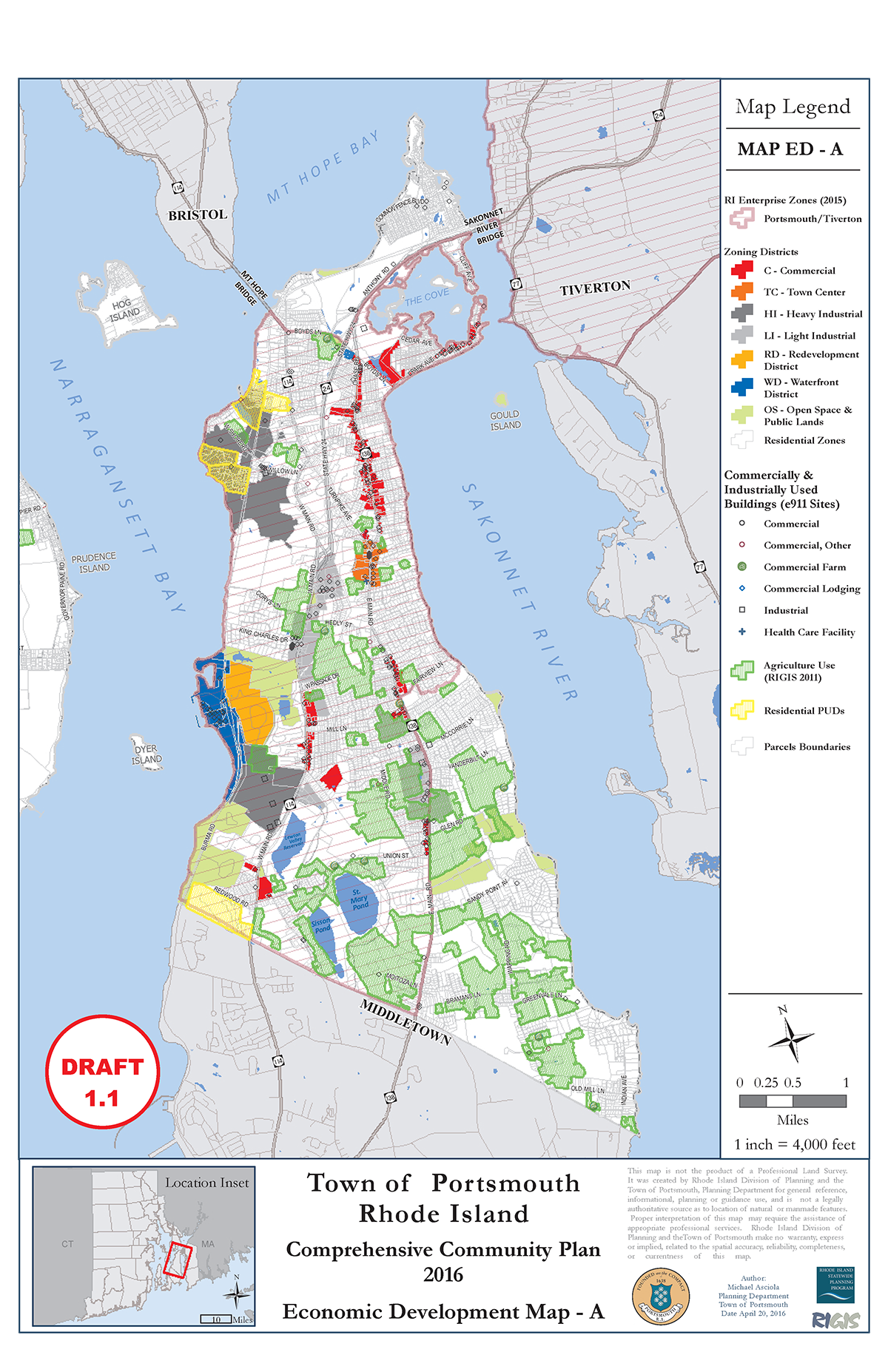 Sadly for these two communities, the urban planning initiatives of the mid-to-late twentieth-centuries were largely focused upon how to get cars as quickly from one urban center to another.  East and West Main Roads were made into four lane highways with traffic traveling at perilous speeds through what had once been largely agrarian communities.
In 2003, with the realization that urban planning should be focused on people more than vehicles, a community effort was launched to do a community "charrette" and have an alternate vision of what a "town center" for Portsmouth may look like.  This was one of the last projects I worked on prior to founding A4 Architecture, but the process and results are still fresh in my mind.
A large number of the community took time to participate in a facilitated information gathering session to find out what kind of community character they wanted. Walking tours of the area under consideration were conducted so that we had a sense of the opportunities and obstacles the project might face.  Following all of the information gathering and community brainstorming, the urban design team proceeded to capture that data, make general recommendations, and develop a design concept.
The prime observation that came out of the process was that, because of the peculiar geometry of the intersection in front of Clements Market, the signalized intersection could create long waits.  To try to avoid these waits, drivers would tear down the hill from the Portsmouth Town Hall at more than twice the posted speed limit of 25 miles per hour.  This created a highly dangerous and uncrossable roadway.  The design team's solution was to moderate the traffic flow with a new roundabout at both ends of the new town center zone. Not only did this solution better accommodate the challenging geometry, it would slow down the vehicles while actually reducing wait time and make pedestrian crossing much safer and enjoyable.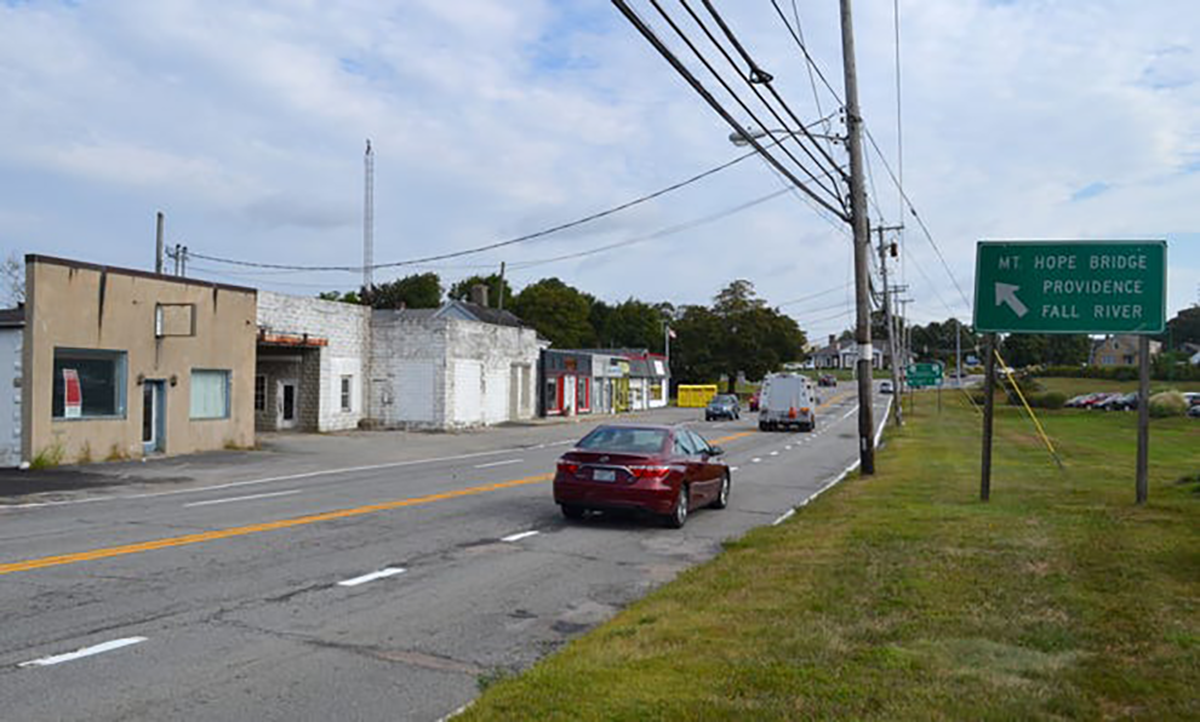 Still, change is hard and the amount of expense and construction pushed this project to the back burner. Even after people were killed trying to cross the roadway, the main part of the plan languished. The recommendation to put the roadway north of the intersection on a "road diet" was implemented and the four lanes was turned into two lanes, a center turning lane, and two new bicycle lanes became a reality, and more than a decade later is seen generally as a successful effort.
Recently, it was reported that as traffic and congestion in this area has only grown and worsened, members of the community are dusting off the 2003 plan and looking for opportunities to try to utilize more parts of it. I applaud these efforts as Portsmouth deserves to have its own walkable pedestrian town centers, with stores, restaurants, and service providers located on the street with a sidewalk out in front to create a lively and enjoyable public realm and not simply be the place that people try to drive through as speedily as possible. Portsmouth now has over 17,000 full time inhabitants, even as Newport has shrunk to fewer than 25,000 fulltime residents, and yet Newport probably has 20 restaurants for each Portsmouth restaurant and probably has 1000 times more visitors per year.
If the Portsmouth Town Center Plan is finally made into reality, the zoning that encouraged strip center development in the past will be changed to new guidelines to encourage "New Urbanism" and "Complete Streets." New Urbanism is really just the traditional village development, which is not new at all. Complete Streets is the concept that the public realm is not just for motorized vehicles, but also for pedestrians (young and old), bicyclists and everyone else as well. Portsmouth Rhode Island, as a thriving and growing community, deserves nothing less!
Ross Cann, RA, AIA, LEED AP, is an author, historian, and practicing architect living and working in Newport, RI. He holds degrees with honor in Architecture from Yale, Cambridge, and Columbia Universities.