A4 Architecture started a blog more than 10 years ago when the concept of a web log (or "Blog" for short) was a novel and unusual thing, particularly for an architect. Back then, building owners still found their architects by looking in the "yellow pages", which is something people under twenty years-old may not even remember seeing.
In that time the world has moved online in a VERY big way and people use the computer to search, evaluate and select everything from a cup of coffee to an architect who will be responsible for guiding the largest single investment of their lifetime.
A4 Architecture has tried to evolve with the times. Early on our blog largely consisted of co-publishing pieces that I had written for other traditional publications like magazines and newspapers columns on Architecture. These were easy to do since I had already done the research and written the copy but many of them had specific time periods or limited topical value.
Over time we came to realize that most people are not online to read a history of the Breakers Mansion or learn about an architect who died more than a century ago. They are online to try to find answers to questions plaguing or confounding them. "Do I need an architect?" "What is the value of design?" "How are architectural services priced?" These are pressing questions that people had that we knew the answers to. We began to see our blog as a way to serve not just our potential customers but everyone who was interested in Architecture and Design but who had no idea as to how and where to begin.
We have added nearly numerous articles to our blog spanning many subjects. We still add articles on Architectural History and Building Technology but have added many more practical and mundane subjects about architectural design and building construction process. Although we are a relatively boutique firm in size we have been rewarded with having our blog listed as being in the top 70 in the world on the subject of architectural design.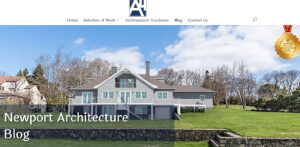 We now have nearly 200 original blog articles and try to post 1 or 2 new ones each week. We have even combined selected articles and created a 14 chapter "eBook" that we can send to prospective house and building clients to help them better understand the intricacies and complexities of the project design and construction process before getting too deep into potential problems.
It has been said that the most challenging part of ignorance is "not knowing what you don't know". We hope you will subscribe to our free blog and newsletter so that you can continue to learn about Architecture, Design and Planning, both to make you a more knowledgeable client but also a better community citizen. We too suffer from being locked into our own perspective and it is hard for us to see the world through the eyes of people who have not built projects previously, so if you have questions we would be grateful if you would email them to us. Although we will not have time to respond to all communications, if we see similar questions arising again and again, we will definitely try and respond with future blogs to help answer those questions.
The internet has bought the world closer together by allowing people across the world to communicate and easily connect. But it has also flooded the world with bad information on many subjects. A4 Architecture pledges to always try and make the information we share as entertaining but also as correct as possible. Thank you for coming on this journey towards greater education together with us! –RSC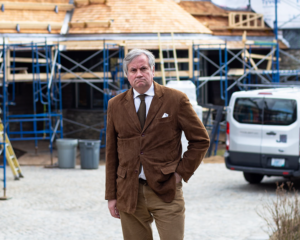 Looking to design or remodel your home to its fullest potential? Let's discuss your ideas.
Join the Architectural Forum to stay up-to-date with architectural news from Rhode Island and abroad.
Ross Sinclair Cann (AIA, LEED AP) is an historian, educator, author, and practicing architect living and working in Newport for A4 Architecture. He is the founding Chairman of the Newport Architectural Forum and holds honors degrees in Architectural History and Design from Yale, Cambridge, and Columbia Universities.